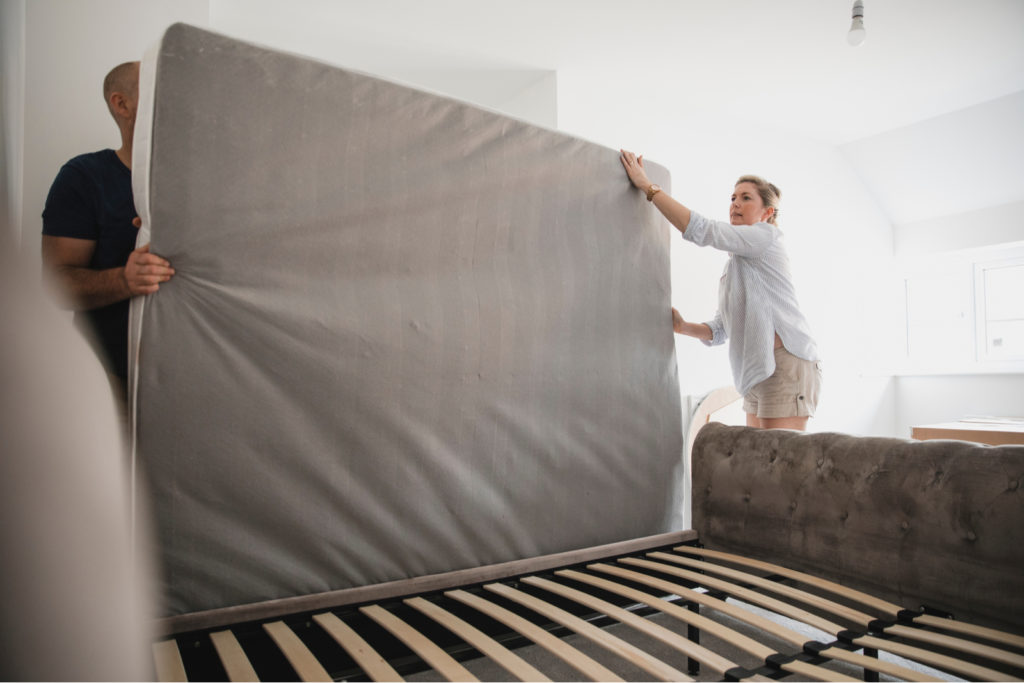 The Easiest Way To Move A Bed By Yourself
Your bed may be the largest item in your home, but it is quite easy to move when you know what to do and have all the correct equipment. Our professional house movers move hundreds of beds in a week, so who better to learn from than the experts.
What You Will Need:
Tape

Tools

Ziplock bag / Plastic bag

Furniture dolly

Furniture blankets

Furniture straps
The Mattress
Remove all the pillows, bedding and linen from your bed and wash them before packing them up in boxes and bags.
Place the mattress in a mattress protector to prevent any rips, stains or scuffs during the move. If your mattress protector does not come with a sealer, seal the edges with tape so none of the mattress is exposed. Don't forget to buy the correct size mattress cover that corresponds to the same size as your mattress. You can also use shrink wrap to wrap up your mattress. Mattress protectors and a roll of shrink wrap can be purchased at your local hardware store such as Bunnings.
If you can avoid it, do not fold your mattress in half or roll it up as it can cause permanent damage to your mattress. But it is always a good idea to check with your mattress manufacturer to see what they recommend as every mattress is different.
The Bed Frame / Bed Base
If you have a bed base, unscrew the legs and put them all in a plastic bag so they are all kept together. Put them in a safe place so you can easily find them when it is time to reassemble the bed at the new location. Place the bed base in another mattress protector or shrink wrap it and seal it shut. If you have a bed head, wrap the bed head using furniture blankets so it is well padded to prevent damaging the bed head or any walls during the move.
If you have a bed frame, dismantle the frame with the tools. Different bed frames will require different tools, but usually a screwdriver and allen key will do the trick. Put all the bolts and screws in a ziplock bag and tape the ziplock bag onto one part of the frame so it doesn't get lost in the move. This will also make it easier if you have multiple beds to move so you will know which parts belong to which bed. Wrap the bed head up in its own furniture blanket and secure it with tape or shrink wrap. Then wrap the rest of the bed frame in furniture blankets, so they are bundled up together, and secure the bundle with tape.
The Relocation
Make sure you have at least another pair of helping hands before you begin lifting.
Use a furniture dolly to move your mattress and bed base/frame if it is too heavy for you to lift.
If you are using a truck or van, place your mattress flat against a solid surface or on its side against a wall. Make sure the mattress is not sitting up against anything sharp, pointy or heavy that could cause damage to the mattress. Then secure the mattress to the sides of the truck or van with furniture straps. 
If you are using a ute, place the bed base laying flat in the tray of your ute making sure there is nothing underneath it that could damage it. Then place the mattress on top of the bed base and strap everything down so it is secure during transit.
Once you have successfully reached your new destination, unload your mattress and bed and reassemble it. If you have forgotten how to reassemble your bed, you can sometimes find instruction manuals for your bed frame online if they have a website such as IKEA.