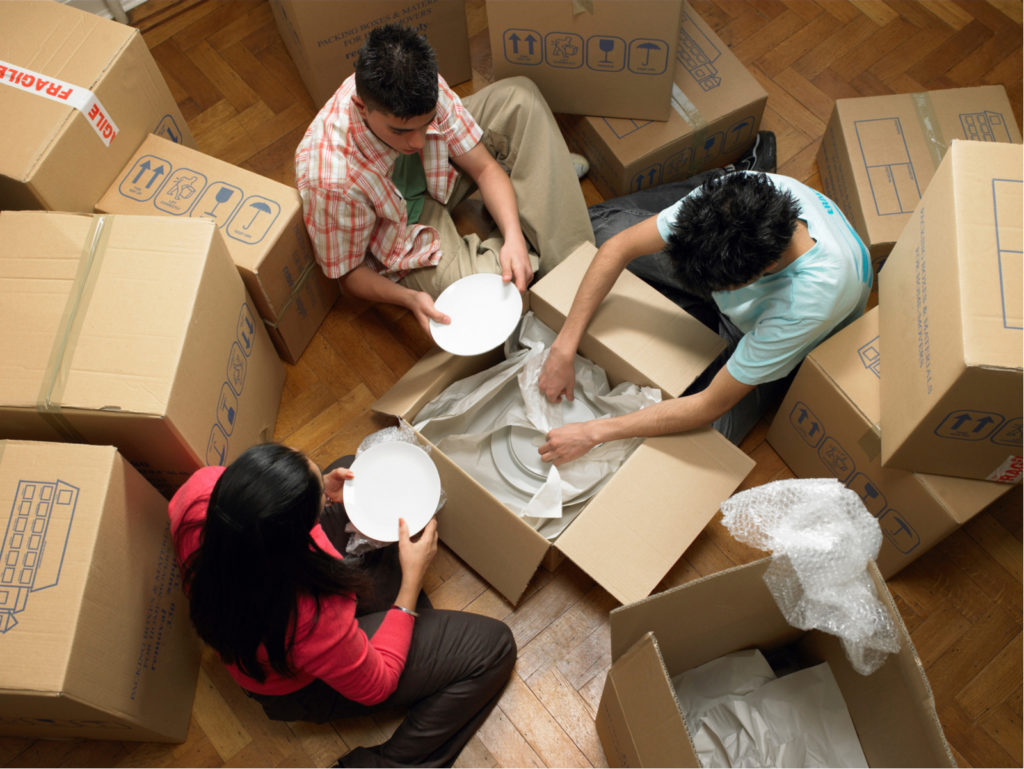 Everyone dreads packing the kitchen plates and dishes when it's time to move house, but it is easier than you think. With a few important packing materials and a few hours out of your day, you will have your plates and dishes safely packed and ready to be moved.
What You Will Need:
Small, double corrugated cardboard boxes


Avoid using large boxes when packing fragile items as they can get too heavy and will be difficult to lift. You want to use small boxes instead. Try and use brand new boxes as they are sturdier than second hand boxes. Boxes with double corrugated cardboard are the most ideal as they will be better at absorbing any shock during the move.

Butchers paper or packing paper


This is the most important ingredient you will need for your pack. We recommend purchasing more butcher paper than you think you will need. A cheaper alternative is newspaper, but it may cause ink transfer to your delicate china and dinnerware so they will need to be thoroughly cleaned when unpacked.

Fragile tape or stickers


Fragile tape and stickers are bright red or orange so this helps identify which boxes contain fragile items and which ones don't. If you are using professional house movers to move your boxes, this will help them see which boxes need to be placed on top of their load at a quick glance.

Marker


Use a thick black marker to label your boxes so you and your house movers can identify what is in the box without having to open it and they can be placed in the appropriate rooms.
5 Steps To Pack Your Plates & Dishes Without Them Breaking
1. Declutter Your Plates
Moving house or office is the perfect time to declutter. Donate, sell or throw away the plates and dishes you no longer use. You don't want to waste time or money packing your old chipped plates and then end up getting rid of them shortly after you have moved.
2. Preparing The Box
It is very important to make sure your moving boxes are properly taped so they are able to sustain the heavy weight of your plates and dishes. The last thing you want to see is the bottom of your box collapsing as soon as you go to pick it up. Don't be stingy with the tape and place the tape in both directions, vertically and horizontally, for extra reinforcement.
You need to cushion the bottom and sides of the box to protect your plates with crumbled butchers paper. Scrunch the paper and place it on the bottom and sides of the box to provide a layer of protection on the floors and walls of the box. Make sure the bottom and all sides are completely covered with paper.
3. Wrapping Your Plates
The best place to pack your plates is the kitchen counter or dining table. You need a clean, flat and solid work surface that is wide enough to lay your stack of butcher paper flat. Make sure your butcher paper is large enough to fully wrap your plates and dishes.
Once you have laid out your butcher paper, begin by placing one plate in the middle of your stack of paper. Take one corner and place it on top of the plate so the plate is fully covered. Take a second plate of the same size and place it on top of the first plate so it should be plate-paper-plate. Then take the other three corners and wrap the second plate so both plates are completely covered in paper.
Depending on the size of your plates or bowls, you can stack them 2, 3, 4 or 5 high within each other as long as you are following the plate-paper-plate method.
Repeat this method until all your plates and dishes are wrapped in butcher paper.
4. Stacking Your Plates
Place the fully wrapped plates, bowls and dishes on its side inside the box. By placing them on its side, they are able to sustain more impact during the move. Never put your plates or bowls flat as they are more prone to breaking in this position. 
Place your heavier dinner plates and serving dishes on the bottom of the box and work your way towards the top of the box with the lighter dishes such as soup bowls and dessert plates. 
Fill the empty gaps in the box with more scrunched paper. Your plates and dishes need to be snug inside the box. If you gently shake the box, you should not be able to hear any clinking of plates touching each other. If you can, you need to fill those empty spots with more crumbled paper.
You will also need to leave room at the top of the box for scrunched paper just like you did for the bottom and walls of the box.
5. Sealing The Box
Once you're happy with your packed box, seal the box shut with fragile tape and label it with an easy to read marker. Write down what types of plates, bowls or dishes are in the box and if they belong to the kitchen or dining room. This will make things easier when it comes to moving and unpacking time.
If you don't have fragile tape, seal the box closed with packing tape and clearly label the box as fragile on the top and on two sides of the box. Labelling the box on multiple sides helps you see if it is a fragile box even when you have piles of boxes stacked on top of each other.