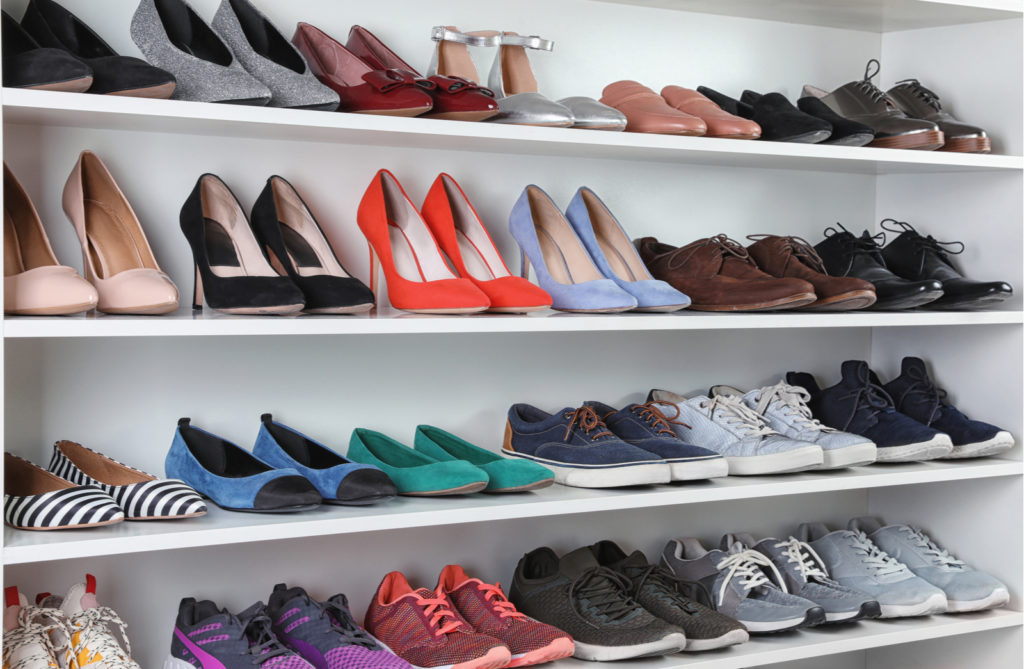 If you were about to throw all your shoes into a moving box and call it a day – stop right there!
Shoes may just be worn on your feet but some shoes require a little bit of effort when being packed to prevent scuffing or damaging them and we go through exactly how to do it.
1. Cleaning
First off, if you have time, now is a good time to clean your shoes before you pack them up. Removing all the dirt and mud from your shoes will prevent smudges transferring to all your other shoes. Grab a brush and some soapy water and scrub the soles and upper exterior part of your shoes.
Cleaning your shoes doesn't just stop on the outside – the inside of your shoes also need to be cleaned. If your shoes currently have an unpleasant smell, you want to try and eliminate the odour before packing them up. This is especially important if you intend on keeping them in storage for a longer period of time as you don't want to keep the odour trapped inside for months or years on end. There are a few natural remedies in eliminating smell odour such as:
Place your shoes in the freezer to kill the bacteria

Place citrus peels from a lemon, lime, orange or manderin inside the shoe to absorb the odour

Place baking soda inside the shoe to absorb the smell and poor the remainder out prior to packing it up

Place a dry tea bag inside your shoe to neutralize the smell
If you did clean your shoes, make sure your shoes are 100% dry before you pack them up as moisture = mould!
2. Stuffing
Next, you will want to stuff your shoes to help hold their shape while they are placed in a moving box. If you place a mountain of shoes in one box all on top of each other, it is inevitable that they will get crushed if they don't have anything to help hold their shape. Shoes such as dress shoes, loafers or boots are quite structured so they will need to be stuffed. You can use packing paper or even your socks as a form of stuffing. 
If you have tall boots, don't fold them otherwise you will be left with creases in your beautiful knee high boots. Stuff your boots with a boot tree, a lot of packing paper or get creative and use a pool noodle cut up into smaller pieces that perfectly fit the length of your boots.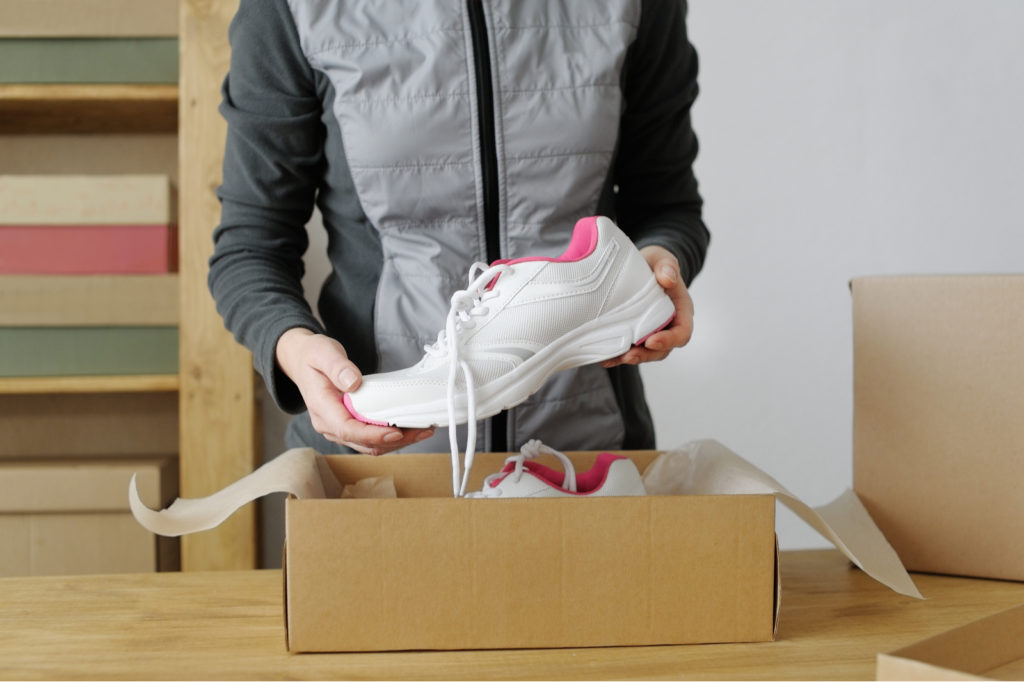 3. Wrapping
For high end shoes or shoes of value, you will want to wrap each shoe individually in packing paper. If your shoes came in individual dust bags and you still have these then you can use this instead. Having your shoes individually wrapped will prevent the shoes from rubbing against each other and causing it to mark. 
If you have the original shoe box, then place the shoes in the corresponding shoe box. You can also purchase plain shoe boxes if you have thrown out or damaged the original box.
For shoes without a box, wrap each shoe individually and then wrap them together so they are bundled together. Use a marker and label the shoe package to make things easier when it comes time to unpacking.
Be sure to use plain white packing paper and not newspaper as the ink from the newspaper can leave stains. This will be very difficult to remove from light coloured shoes.
For general shoes, wrap these shoes as a pair in packing paper with the heels touching each other. Packing your shoes heel-to-heel means the dirty soles are facing each other so they won't ruin the upper exterior part of the shoe. 
4. Packing
Finally, it is time to pack your shoes in your moving box. Tape up a large cardboard box and begin placing the heavier shoes on the bottom and work your way up with the lighter shoes. Shoes such as boots and loafer should be placed on the bottom of the box and lighter shoes such as sandals and flip flops can gently be placed on top. Fill any gaps in the box with scrunched packing paper so everything is packed nice and snug.
You can also pack your seasonal shoes together by having separate boxes for warmer and colder weather footwear. This will help you prioritise which box should be unpacked first.
Another way to separate your shoes is by categories. You can pack all your heels, sneakers, boots etc. in their own separate box.
If you have multiple people in your household, pack each individual's shoes separately so they don't get mixed up during the move.
Lastly, don't forget to leave out a comfortable pair of shoes for moving day. You will definitely need it!