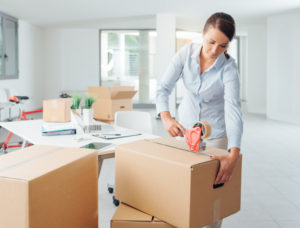 An office relocation is often an exciting time for a business, but it can also be a stressful time if things go wrong.
It is important to organise and plan the relocation process to ensure everything goes smoothly with minimal disruption. Here are 5 tips to be mindful of when moving your office:
Floor Plan
It is recommended to use a numerical or colour coding system along with a floor plan layout of the new premises and provide this to your removal company prior to moving day or on moving day itself. This will provide guidance to your removal company and the office removalists so they know where to place all the items in your new location.
Leadership
It is important to have an authorised representative of the company leading the removal process and managing the office move so the removalists will know who the point of contact will be during the move. MetroMovers' removalists will also have an assigned move coordinator that will continually liaise with your authorised representative to ensure the logistics of the moving process are carried out with maximum care and efficiency.
Parking
If your office is located in an area with limited parking, it is a good idea to contact your council to arrange parking permits for the truck. Having a designated parking spot for the truck can potentially cut down the cost of the move as it will prevent the removalists from a far walk from the truck to the entrance of the office. Please note the council generally requires at least 5 business days to arrange for a parking permit so this is something that cannot be arranged last minute.
Lifts
If you are situated in a lift access building, ask your building manager if you require to book the lifts for the removalists to use. The building manager will usually put up floor coverings and protective padding on the walls in the lifts during the moving process and provide you with a lift card so the removalists can use their own personal lift. You will also need to check if there are any cut off times where the movers are not allowed to use the lifts and advise your moving company of these restrictions.
Weekends
If your office only operates Monday to Friday, then it is recommended to relocate your office on a Friday afternoon or over the weekend. Moving offices can cause disruption to employees and clients so we recommend moving outside of office hours to minimise the disturbance.
Book MetroMovers to ensure a smooth office relocation.