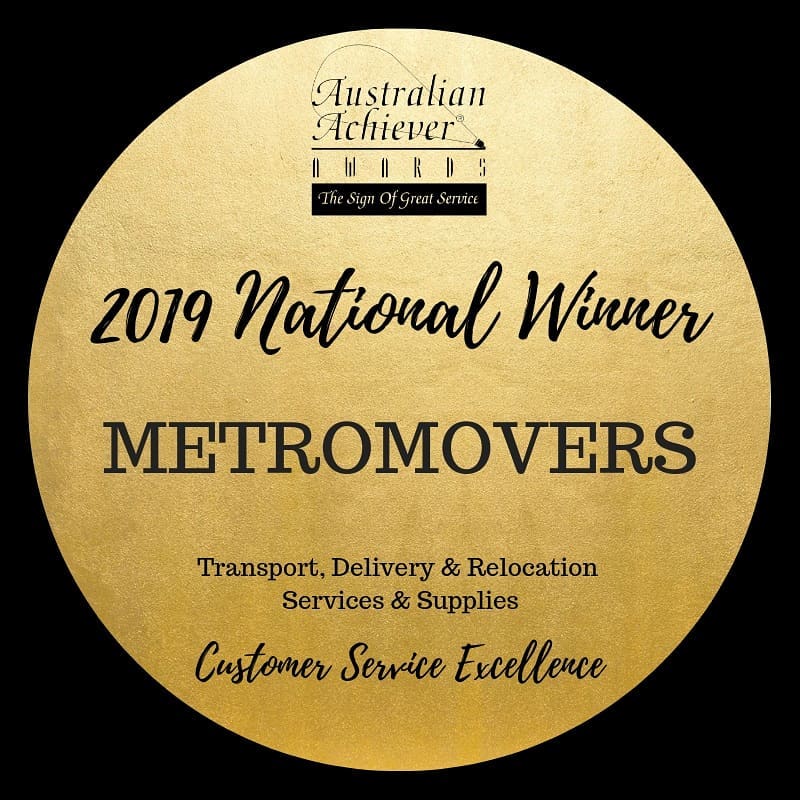 News Release:
METROMOVERS WINS
THE AUSTRALIAN ACHIEVER
CUSTOMER SERVICE AWARD
MetroMovers, from Mulgrave Victoria, has won the 2019 Australian Achiever Award for Australia's Transport, Delivery & Relocation Services & Supplies category.
About The Australian Achiever Customer Service Awards
Now in its twenty‐second year, the Australian Achiever Awards are an independent, unbiased award system based on assessment ratings from a companies' own clients. The awards provide an indication of a well‐run business where satisfied customers are a sign that a business is healthy, worthy of praise and increased custom.
The award focuses on seven criteria, namely: Time Related Service, Addressing Client Needs, Care and Attention, Value, Attitude, Communication and Perception. The criteria are rated individually in percentage terms and the final score is an amalgam of these. Anything above 80% overall is regarded as exceptional and reflects outstanding customer service.
Why MetroMovers Are Award Winning Removalists
MetroMovers achieved a 99.58% overall score for Customer Service and Relations, topping all other Australia Transport, Delivery & Relocation Services & Supplies businesses. The 2019 Australian Achiever Award proves MetroMovers delivers on the promise of customer satisfaction.
MetroMovers' Removalist Company has been operating for over twenty years, offering residential and office moving and storage solutions across Victoria and New South Wales. We believe that all customer feedback can refine and improve our processes. Operations Manager Mairead Carstens says "we strive to do everything we can to make our customer's life easier when it comes to relocating. Our aim is for the process to be as smooth, stress‐free and efficient as possible, and we have the best moving teams to do this."
What Our Customer's Told The Australian Achiever Awards
Some comments received from MetroMovers customers were:
I would rate this whole process with them a hundred out of a hundred. The first thing that struck me was when I was talking to Lydia in the office was their fantastic business model, they only charge from the closest depot to pick up and drop off. So you know the cost up front, you only have to figure out how many hours you need which is amazing because usually moving is so expensive. The office was fantastic; everyone was always very polite, and they emailed me about everything which meant I knew exactly what was happening, which filled me with a great sense of security that everything was going to go smoothly. I had a wonderful team on the day; Edwardo, Carlos and Jose had big smiles on their faces and were so efficient and worked fantastically as a team. They all shook my hand and introduced themselves and were very polite. They were so hard working and committed to the job. They double‐wrapped everything ensuring it was secure and making sure that nothing, including the walls, would get damaged. We moved into a Victorian house with quite narrow hallways, and they were so careful and worked as a team to make sure nothing was damaged. I could not sing their praises enough, they did an amazing job for us.
I love how easy everything was with MetroMovers. It was so simple and easy to organise the whole thing. They are always on time and are completely transparent in their communication. They make moving easy.
We used MetroMovers when we bought a very large bookcase. Once we had purchased it, the seller basically told us 'bad luck, figure out how to move it yourself'. Well, we panicked. This thing was enormous and we had no idea what to do. If it wasn't for MetroMovers we never would have been able to get it home. I rang them and they immediately said they could help us, we discussed all the details and the wonderful woman I spoke with organised the whole thing. She explained exactly how it would be moved and how careful they would be and she was right, the guys that moved it for us were amazing, they took so much care with it and got it home in one piece. They kept us updated the whole way, letting us know where they were, how far they had to go and how long they would be. They were our absolute saviours, even my husband loves them, and he is not easy to please. I cannot praise them enough.
For more information, go to www.achiever.com.au, or contact MetroMovers on 1300 138 960.