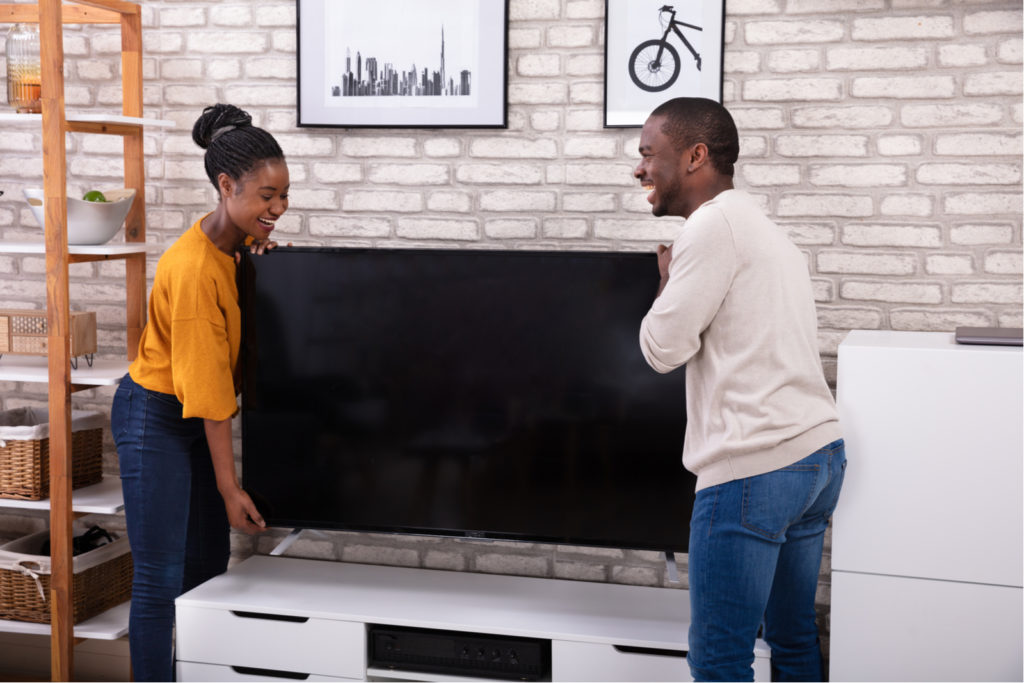 The easiest way to pack and move your TV is by using the original box it came in, but we understand not everyone has the original box.
Whether you bought your TV second hand so it never came in a box, or you threw the box out because it is too bulky and difficult to store – don't worry, you are not alone!
The good news is you don't need the original box for a damage-free move.
With a few simple packing materials, here is how to pack your TV without the original box.
What You Will Need:
1. Disconnect The Wires
The first thing you need to do is unplug and disconnect all the wires and cords attached to the TV.
Before you start pulling everything out of your TV, take a photo of the back of your TV and use that as a guide and reference to know which cords go where. 
If you are not confident in reconnecting your TV after it has been moved, then we recommend you label all the cords with its corresponding electronic. Place a piece of masking tape around the cord and use a marker to write what device that cord belongs to.
Unplug each cord and put it together with the corresponding device such as your PlayStation or DVD player. Coil these cords up and tape the cords to the correct device. You will want to pack the cords, along with the remote if there is one, with each device so there is no confusion later on.
If the cord belongs to the TV, coil these cords up and place them together in a bag along with the remote control. Keep everything together in one place as it is very easy to misplace things during a big move.
You may think you are saving time and effort by keeping the cords attached to the TV, but this can cause damage to the ports whilst it is being moved so make sure everything has been detached.
2. Clean The TV
Next you will want to clean the TV screen and the back of the TV. The back of the TV gets very dusty and is often a place that doesn't get regularly cleaned so now is the perfect time to do so.
Dust off all the dust and wipe down everything with a microfibre cloth.
You also want to wipe down the TV screen and remove all the debris and dust as this can cause scratches to the screen when it is being moved.
3. Wrap The TV
Now your TV is all prepped, wrap your TV in bubble wrap. Use a few layers of bubble wrap especially around the screen so it is well protected.
You will also want to place a flat piece of cardboard in front of the screen for additional protection and then wrap the entire TV in furniture blankets. Secure the furniture blanket in place using tape.
Now your TV is wrapped up like a bundle, you can place your TV in a box. You can purchase TV boxes, but this can be quite pricey. The good news is that you can make your own TV box using 2 – 3 large boxes or wardrobe boxes. Cut, shape and tape the boxes until it is the perfect shape and size for your specific TV. The great thing about making your own custom box is you can use it for your next move as well.
Using your marker, draw large arrows pointing upwards onto your box so you and your movers will know which direction to place the box in the truck or van.
4. Move The TV
When placing your TV in your truck, van or car, it is important to know that it must be placed upright. TVs should be moved in an upright position to minimise any damages that can occur during transit. If you place the TV on its back inside a vehicle, the vibrations and bumps from the drive can lead to pressure cracks externally or internally.
Use moving straps to tie and secure the TV in place inside your vehicle, making sure it is in a secure upright position.
You can also place large, soft furniture surrounding the TV to keep it upright and protected. Items such as a sofa or mattress are great to act as walls to surround the TV as they are soft and flat. Make sure you don't place any items that have corners and sharp components near the TV in case there is movement during transit.