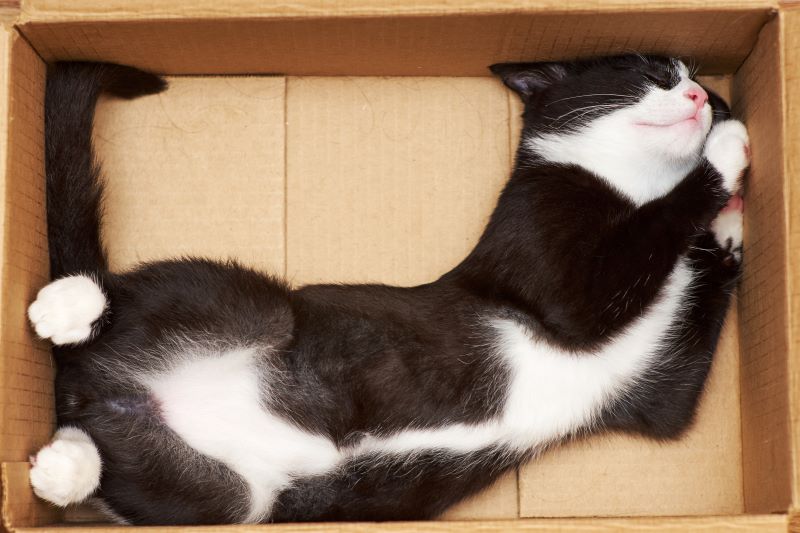 If you're a cat owner, you may already be aware that moving house with a cat isn't like moving with a dog or any other kind of pet. Moving house is much harder on cats than on almost any other animal. Cats are orderly, territorial creatures. Their environment and their routine are extremely important to their wellbeing. And even bringing your moving boxes into your house, and spending time packing up, can cause your feline friend to start getting flighty.
After more than 20 years of moving experience, we've seen our share of people moving houses with cats. We've seen the good, the bad and the frantic owners whose cats have disappeared in the midst of the move. Like you don't have enough on your plate when you're moving home!
That's why we thought it would be a good idea to put together the following loving cat owners' guide for how to de-stress and happily move cats to a new home.
See To Your Cats Before The Big Move
Before you even start sorting out your belongings, make sure your cat's microchip is up to date. Any kind of unsettlement – even just packing your belongings, can cause more sensitive cats to make a run for it. And you want to make sure if anyone finds your precious puss, they can return them to you. On that note, it might be a good idea to try and get your cat used to a cat collar with a tag on it. Then you can engrave your cats name and your phone number, which also makes it easier to reunite you with your cat should they wander off before, during or after you move.
Another good idea is to invest in a solid, secure cat carrier at least a few weeks before you move. Get your cat used to being inside. If they are reluctant, perhaps spray some catnip or put some of their favourite toys/ cushions inside. Having them comfortable with their carrier will come in useful both during and after your big move.
It might also be an idea to partially empty one room of your home early on. That way your cat can get used to the new layout and have a familiar place to hide out when the furniture moving starts.
Just Before You Move
If you get a chance, before moving cats to a new home, it would be a good idea to give your new digs a good scrub down. That will help get rid of any scents from previous cats or pets that have lived there before you. Also, check all the windows and doors are secure, or plan ahead and figure out where you can keep your cat locked in for a while after the move. Right after your move is when your cat is at highest risk of running away.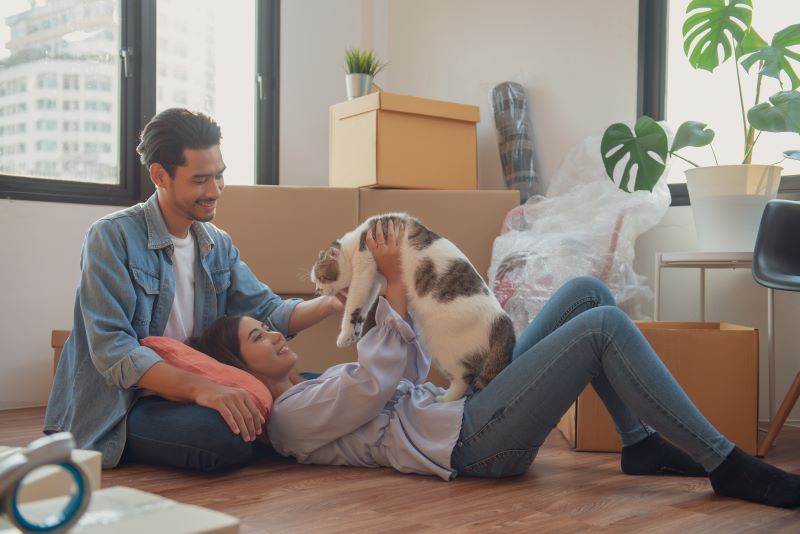 On Moving Day
On the day of your move, it would be a good idea to set up a special, secure area for your cat to hide away from all the noise and activity. Don't try to hold them or comfort them in your arms: being insecure and skittish, your cat will probably want to hide far away. So if they aren't locked in a secure room, there's a high chance they'll make a run for it.
But when you're moving with cats there's a few ways you can set up their isolation room to ease their stress and make them a whole lot more comfortable:
Put their kitty bed and kitty litter in the room.
Lightly spray some catnip, lavender or familiar scents that they like around the room. Cats have an excellent sense of smell and this will help calm them.
Remember that earlier advice about getting your cat comfortable with their carrier? Fill it with their favourite cushions and place it in the room with them. That'll give your Tom an extra cosy place to hide.
Fill their bowls with food and water and place it near their carrier. Chances are they won't want to eat or drink, but it will comfort them to have it near and full.
Put a radio or TV in that room and turn the volume up before the movers arrive – that should mask some of the strange, scary noises your cat might hear coming from outside the room during the move.
Put a sign up on the door and let the movers know not to enter the room (at least, not until last). And if/ when they do have to enter, you should go in first to comfort your cat and secure them in their carrier.
Moving Cats To A New Home
If you've followed our previous advice, your cat will already be comfortably in their carrier before you start your car engine. If your cat is particularly skittish, you might want to cover the carrier while your cat is in the car, so they can't see you're travelling away from their territory. Also, make sure your cat has enough water during transit and doesn't get left inside the car on hot days without because cats tend to get dehydrated when they're stressed.
When you arrive at your new house, the professionals advise you should lock your cat into a secure room or area of your home, where there are no open doors or windows, for at least one month. That will give them plenty of time to acclimatise to their new surrounds.
Start by placing the carrier in that room with an open carrier door. Put their litter box, food, water and regular bed in their too. And make sure you go in to visit often, closing the door securely behind you, to give your feline all the love and support they need. After a week or two, they may be ready to explore another area of the house. Try leaving the door to their room ajar and let them decide if, and when, they are ready to emerge. Remember, you still want to make sure all the exits of your new home are secured whenever you leave their room open.
After a month or more, once your cat is more comfortable around your home, you might want to test the waters outside. Let them get their claws in the dirt, expand their territory, but don't leave them alone: they may still try to make a run for their old territory.
If you're thinking of getting a second cat, this would be an ideal time. Cats are more likely to accept each other of their has marked their territory yet.
Local Council Registration
And don't forget to register your cat in your new council area! In most councils where you'll be moving in Sydney or Melbourne, you can even register your cats online. Just check out your council website and follow the instructions – it shouldn't take more than a few minutes if you have your cats' microchip certification and vaccination records on hand.
And while you're there, you can also check your local council's policies on cat curfews, just to make sure your beloved baby stays safe in your care.