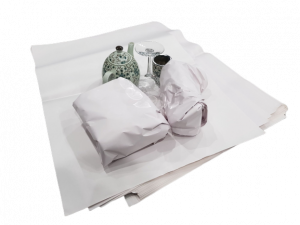 Breathe! It might seem like everything in your home is suddenly cast in stone, but here at MetroMovers, we can move mountains! And we have all the best, most practical secrets for how to pack your home quickly, easily and well organised.
Just take it one step, or rather, one room at a time.
Start Your Move With An Audit 
Before a big move the best time to start re-organizing and discarding items you have not used in a long time and that have no sentimental value. Moving home is often the push start you need to do the de-cluttering you've been putting off for the longest time!
In preparing for your move, set aside important documents and items that may be needed during or immediately after the move, such as: your new and old rental / new home owners contracts, your moving details, a change of clothes, toiletries, a fresh towel or two, any regular medications, your mobile phone and mobile chargers, a torch (for your first night), your laptop/ tablet and chargers, house and car keys. Keep them in a safe place to prevent them being packed by mistake.
Take advantage of our interactive, ultimate moving checklist here with relevant links to local services, tips from the experts and your pre-moving timeline to make for a smooth and easy moving experience,
Preparing Your Kitchen For The Removalists
Packing Up Small Appliances
2 to 3 sheets of butchers paper may be used to pack heavier and larger items such as countertop appliances.
Keep in mind, larger moving boxes can quickly become extremely heavy: try lifting a box before you seal it with tape to make sure that its weight is manageable. If you choose to use a larger box to pack your small appliances, then these heavier items should be packed on the bottom and lighter plastic storage containers can be packed on top to balance the weight of the box.
Packing Up Your Microwave
We recommend you disconnect the power, remove the glass plate from inside the microwave and packing it securely (along with any other removable parts) with your plates and dishes before your move. Then tape down the microwave door so it doesn't open unexpectedly during your move.
Preparing Your Refrigerator for Removal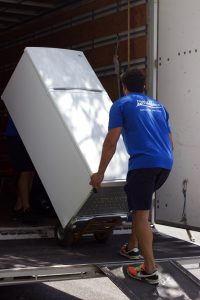 Preparing your fridge for a move takes a little bit more planning, because it needs to be defrosted before the move. We recommend you try to eat up all your fridge-based perishables in the week leading up to your move. Whatever's left should be packed into an esky the evening before your move. Then your fridge should be unplugged, defrosted and all the glass shelving cleaned and packed securely with plenty of butchers paper and padding into larger moving boxes labelled "fragile" and kitchen.
Preparing to Move Your Dishwasher/ Washing Machine
If you want to disconnect your dishwasher or washing machine yourself, it would be a good idea to have a bucket and / or towel ready before in case of any excess water in the hoses. The first step is unplugging the electricity and making sure the plug is secured up somewhere it doesn't touch the ground. Then disconnect the hoses from the taps and the drainage pipe from it's connections, being sure to drain the excess water out into those handy buckets. If you have a tumbler that can disconnect, it would be a good idea to remove it from the machine. Or your machine may have come with a handy thingamabob that can secure the tumbler inside the washing machine. That way it won't get jostled and bounced in the move. Lastly, tape up all the connections so they don't drag on the ground, and if you have a zip lock back, put any small connecting parts inside and tape it to the machine (so you can find them easily when you have to set it up again.
At MetroMovers, we can usually assist you with simple dishwasher disconnections, but not if there's anything complicated involved that might requires specialist plumbing equipment. We also can't reconnect your washing machine or dishwasher in your new home because we aren't qualified plumbers.
What To Do With Food & Condiments?
Small boxes are ideal for non-perishables. Line the bottom with a sheet of butchers paper. Pack all items upright where possible and use butchers paper scrunched in between to prevent shifting inside the box. Make sure all box and bottle tops are secured before packing them. Use packing tape to tape closed any open boxes or packets. Generally, there is no need to wrap food boxes or plastic bottles in plain packing paper. Label the box with 'Keep Upright". Perishables from the refrigerator should be placed in a cooler on the day of the move.
Preparing Your Wine Bottles For Transport
Small boxes are ideal to pack wine. Like all other fragile boxes, cushion the bottom with scrunchers. Wrap each bottle in at least 2 pieces of packing paper and lay it on its side in the box. This prevents the cork from drying out, especially if your wine remains in the packing boxes for a while in your new home.
Securely Wrapping Up Glasses, Dishes and Fine China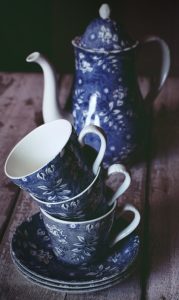 Multiples of similar plates, saucers and bowls can be wrapped together in one bundle. Use the paper-plate-paper method to nest wrap 3, 4 or 5 dishes together. Wrap the complete bundle tightly in packing paper then tape it closed. This keeps it from unwrapping. Plates, bowls, platters and other flat items should always be packed vertically on end to prevent breakage in the event a box is dropped or jarred. Never place these items horizontally in a moving box.
The first or bottom tier of the dish pack should be comprised of heavier items such as large plates and platters. The second tier can include bread plates, saucers and soup bowls. The top tier should be reserved for glasses, cups or stemware. "scrunchers" must be placed above and below each tier and should further be used on the sides of the box and in between packages.
How to Pack Glasses and Stemware
For a glass or piece of stemware, initially wrap each piece loosely in a sheet of packing paper. Then, wrap the item more tightly in a second sheet. Glasses and stemware should always be stood upside down, stem facing upwards in a small box. A paper collar is sometimes recommended to provide additional support around an item before loosely wrapping it in a sheet of packing paper.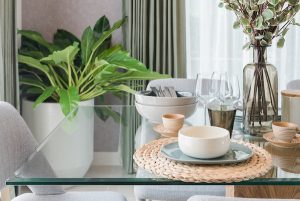 Stuff some crumpled packing paper inside a glass vase or pitcher to provide support to its sides. A fragile piece like this should be wrapped in bubblewrap and packed in the top or second layer of the box.
Before sealing the moving box, put a layer of cushioning material on top of the glasses. However, be aware of overdoing the cushioning on the top of a box that contains extremely delicate stemware. The extra "protection" on the top of this type of a box may actually press down too much into the box, placing unnecessary and excessive pressure on top of the stemware.
Do not be afraid to use extra paper when wrapping an item! Paper may seem expensive, but it is less expensive than replacing your fragile belongings!
Always keep the tops and bottoms of ceramic cookie jars or teapots together in the same bundle. If there is the possibility of an item being damaged, wrap them separately but pack them in the same packing box. Small glasses can be wrapped and then placed inside larger jars, canisters and vases. This may seem like extra work, but is actually safer for the smaller items.
How To Pack Pots and Pans To Save Space
Always wrap pots and pans before placing them into moving boxes. If the packing paper is not large enough to properly cover the piece, overlap two or three sheets of paper. When possible "nest" pots and pans together to efficiently utilize space. Lids should always be packed in the same moving boxes as the pots and pans they belong to. Large moving boxes can be used for these items.
What to do with Your Bits n' Bobs Draws?
Everyone has their 'bit of this & bit of that' drawers in their kitchen. These are best packed by wrapping contents into little manageable bundles of butchers paper.
Never pack flammable items such as matches, paint, aerosol cans.
Our Experienced, Professional MetroMovers Make Moving Easier!
Book Your Move Online

Packing Your Bedroom, Dining & Living Room
Packing Tips for Drawers and Cabinets
Wherever possible, you should empty out your drawers and cabinets into moving boxes before our furniture removalists arrive. Once empty, it's a good opportunity to wipe down the drawers and inner shelving so that when they arrive at your new home, you can unpack straight into place. And you don't bring any dust or dirt from your old home with you.
Boxing Up Televisions, Computers and Stereos
Before moving or packing any televisions, tape the front control panel closed. Remove or recess fully the antenna. Keep careful track of remote controls to any electronic devices, as these items are often misplaced during a move. Coil and tie/tape the electrical cords on all appliances. Tapes and CD's should be removed from electronic equipment before being prepped or packed.
Your devices should, where possible, be packed into their original boxes. If you don't have these then wrap in bubble wrap and pack in a suitable sized moving box. For larger televisions, furniture pads can be used on the day of your move for effective transportation. If you are moving with MetroMovers then we provide complimentary plasma/LCD boxes on your Move Day. Our staff can then pack and unpack your television for maximum protection.
Packing Your Favourite Fragile Lamps 
Never pack a lamp and its shade in the same moving box. A lampshade should be removed from its lamp and packed in a box using plenty of cushioning material on the top, bottom and sides. For cushioning use crumpled packing paper to protect the shade. Do not over pack the box with cushioning material that could potentially damage the lampshade. Always box lampshades. All fabric and delicate lampshades must be boxed individually. A optional safe way to transport lampshades is to pack them in a rigid chest of drawers, stabilised with cushions.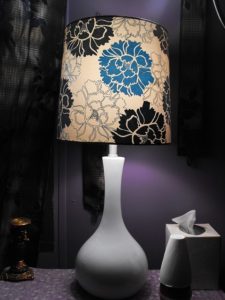 Before packing the lamp, remove its harp and light bulb. Pack these parts together using white packing paper. The lamp itself should be wrapped in butchers paper or bubblewrap. The lamp and its parts can be packed either in a small or large box depending on its size.
Multiple lamps may be packed together. When packing fragile lamps or other items together, always place cushioning materials around all the items to protect against shifting in the box.
Remember: use "scrunchers" (rolls of crumpled white packing paper) to make a base of cushioning 6 to 10 cm thick at the bottom of the moving box. Finish off a packed lamp box with scrunchers if the lamp(s) requires it. When loading the truck, pack lamps in an upright position when possible.
Protecting Artwork, Mirrors and Pictures
Multiple, smaller pictures/mirrors can be wrapped in a single paper pad or bubblewrap and placed in a box face-to-face with the backs against the outsides. Each picture/mirror must be insulated from one another. Never put unprotected items into any moving box. A piece of cardboard can be placed between the glass for added protection. If you want to be extra careful, we have special picture boxes designed for packing individual pictures or mirrors.
When setting up the "picture / mirror" box, begin once again with crumpled packing paper or scrunchers on the bottom of the box to act as a cushion. After the items are placed in the packing box, add additional packing paper along the sides and top and in-between each picture/mirror to prevent any shifting. A properly packed box will have no movement inside. Label the packing box with its contents and room destination. Larger picture and mirrors can be individually wrapped in furniture pads on the day of your move and further protected with a wrap of bubble wrap.
Folding Away Your Clothing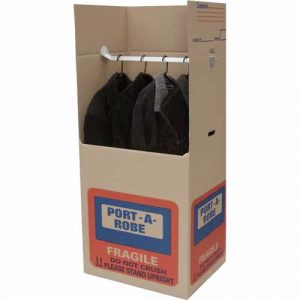 Large boxes are ideal for clothing such as sweaters, shirts, bed and bath linens as well as doonas and pillows. After the box is assembled, line the bottom of the box with packing paper. Neatly place the clothing or linens into the boxes. Never jam or overstuff clothing into the box. This could result in time- consuming ironing after you unpack. Place a sheet of packing paper on the top of the filled box before sealing it.
Wrap accessories such as belts and handbags in packing paper before packing them. Always try to pack items in neat bundles. If not in their original boxes, expensive, designer shoes should always be wrapped in packing paper, keeping pairs together.
Pack hanging clothing into stand-up portable wardrobes. The wardrobe has an aluminum bar that spans two sides. The clothing is left on hangers and neatly hung on the bar. One portable wardrobe can fit approximately 10 to 20 garments. Do not overstuff the portable wardrobes. Hats can be transported in the bottom of the porta-robes.
Packing Tips For Your Study / Home Office
How To Pack Books and Magazines
Books are heavy so should always be packed in small boxes to prevent box breakage. Start with the top shelves of bookcases to prevent toppling. Books should be packed horizontally. Use packing paper to fill out any empty space. A packed book box will weigh an average of 15kg. If this is too heavy for you to carry, you may prefer to fill boxes only part way with books, filling the remaining space with packing paper or other lighter contents.
The Deal With Lateral and Vertical File Cabinets
The contents of all the drawers of a lateral file cabinet should be emptied and packed into moving boxes. The bottom two drawers of a vertical file do not have to be emptied, but all remaining drawers must be emptied into boxes. When packing the contents of file drawers, careful consideration must be made to keep files in numerical and/or alphabetical sequence.
Tips To Pack Desk Drawers
Try to keep the contents of each drawer separate. This can be achieved by wrapping bundles of the contents into butchers paper packages and separating within the box with layers of paper.