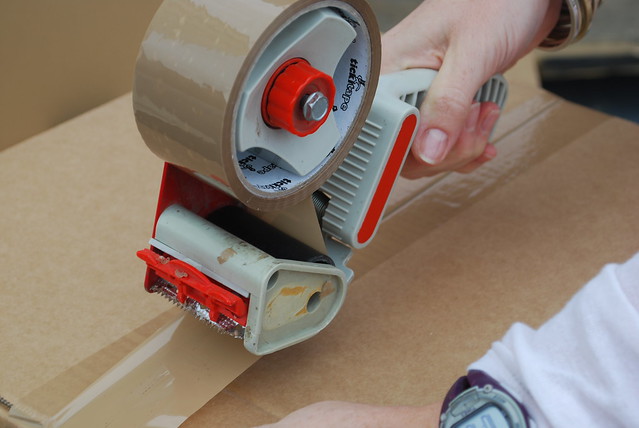 STOP RIGHT THERE!
It's the proverbial calm before the storm. You want to make sure you're ship-shape before the chaos starts. But before you dive into the daunting task of boxing up your entire home and life, we've got a couple of tips to make the most tedious of moving tasks much easier and quicker.
You may know how to stuff a box full of things, but can you pack boxes for moving house like a pro? Prevent unnecessary breakage?  Assemble boxes with the speed and grace of a gazelle? Get maximum potential out of each box? Pack and unpack faster and more easily than you could have imagined? And for the first time, find that all your belongings do actually fit in the moving truck?
If getting all your belongings into one lift without any shoving or squishing, take a minute to read our pro packing tips below: how to properly pack a box isn't as obvious as most people think!
Packing Materials Checklist
Before you begin packing, make sure you have plenty of the following essential moving and packing materials on hand. You can order all your moving essentials from our box shop (and get FREE DELIVERY for orders over $100 within metro areas):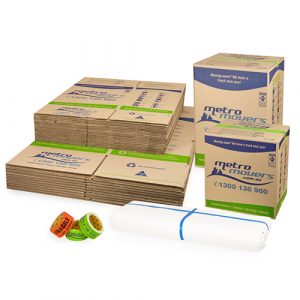 Moving boxes – you'll need at least 2 essential sizes: big and small moving boxes
Butchers' paper for padding interiors of moving boxes and wrapping delicate items
Packing tape for sealing moving boxes
Fragile tape for indicating breakable contents
Permanent markers for labelling moving boxes
Bubble wrap for wrapping small electronics, vases, pictures and large delicate items
Setting Up Your Packing Station
A suitable and comfortable workstation should always be set up to prevent fatigue and strain during the packing portion of a moving job. A kitchen or dining room table may be used for this purpose. This is much easier than bending over and working off the floor. Always cover the table with a furniture pad or blanket before placing any paper or items on the exposed surface.
Assembling Your Moving Boxes
A moving box should be assembled by first folding over the shorter sides and then 'squaring up the longer sides' along the box. These should be taped securely in place by running box tape along the seams. Always use packing tape – do not simply interlock the bottom or top flaps as this method is not strong enough and may cause the box to spill all its contents out the bottom!
There are three ways to tape an assembled moving box:
Use three strips of packing tape, making a cross on the top and bottom;
Put one strip down the middle seam, adding a strip along each of the two side seams;
Use three parallel, but not overlapping, strips on and along the middle seam.
Label Boxes So They're Easy To Find
The packed and sealed moving box should be clearly marked on at least two adjoining sides with the contents of the box and the room where the moving box should be placed at the destination. As much as possible, mark the contents of a box on its sides rather than on its top. This will make it easier to identify the contents for each box at the new residence.
Clearly mark moving boxes that must be kept on top with arrows or "Top Load Only," indicating that the box will remain on top when stacked in the truck. These markings should be used sparingly for boxes containing only the most delicate items. Label other boxes with fragile items with "Fragile" in large bold or with a strip of fragile tape around the mid-section.
The Perfectly Packed Boxes for Moving House
Super Scrunchers! "Scrunchers" – rolls of crumpled packing paper – are the single most important component of packing. Take one sheet of packing paper and loosely crumple it. Do the same with a second piece of paper. Place both of them side-by-side on a third piece of packing paper and roll them up inside the third sheet as if you were rolling up a subway sandwich. These should be used liberally in your boxes to give padding to top, bottom, sides and between when packing breakable items in your boxes.
Try to use proper, removal boxes. It will make your task easier, your items will be safer and your move will be completed more quickly.
"Cross" tape the bottom of the box with good quality tape.
Plan what you are putting in each box.
Line the bottom and sides of the box with scrunchers.
Wrap items in white paper heaviest at the bottom, lightest at the top (never wrap your goods in newspaper as the ink can rub off on them)
Further cushion with more scrunched up white paper in between layers.
Make sure your goods fit snugly together so there will be no movement.
Rather over-wrap your fragiles than under-wrap.
Finish flush to the top of the box with a final layer of scrunched paper.
Pack each box to capacity to prevent collapsing when stacked in the truck.
Close and tape the box, mark clearly and group with other boxes close to the entrance.
To prevent back ache, try to always pack a box at a level at which you are not constantly bending. An easy solution is to sit the box being packed on top of an already packed box or to use a low small table.
Okay, now I know you've read through all this and immediately started figuring out how many corners you can skip: our pro packers really recommend you try before you modify. These are the tried and true pro tips for how to pack a whole lot of boxes in record speed without hurting your back …. or losing your shirt.